Our Mission
Founded by Ms. Zhou Jing (See Her Profile) in June 2010, Essence Education Centre is a premier education centre registered with the Ministry of Education [MOE Registration No.: 3334] which provides excellent, effective and professional Chinese learning programs to students ranging from kindergarten, primary to secondary level.
In Essence Education Centre, we guarantee that:
Updated Learning Curriculum
Our programmes (See Our Programmes) are specially designed in line with the MOE curriculum and paced in tandem with the progress of school lessons.
Our materials are designed according to different students'ability and language proficiency level in order to cater to different needs.
Conducive Learning Environment
The learning environment in Essence Education Centre is conducive and comfortable.
Our classroom is equipped with whiteboard (1.2m x 2.4m), computer, visualizer, projector and sound systems.
We try to make Chinese learning as fun as possible to generate the learning interest in your child when your child joins us.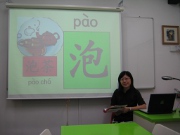 Excellent Partnership with Parents
We develop a learning portfolio for your child to keep all his work with us for easy reference and self-revision upon completion of each term.
Besides the term-base report your child gets from us, we also organize regular parents meeting to keep parents updated on child's learning progress as we value parents as our most reliable and excellent working partner in your child's learning journey with us.